World Class Rio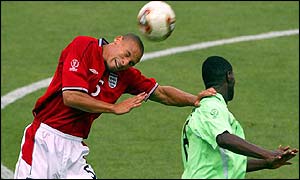 After Sweden it was despair, after Argentina it was euphoria and now it's somewhere in between.
It was not England's best performance, but something good did come out of it - Rio Ferdinand.
England have been crying out for a world-class centre-back since the great Bobby Moore and now they have Rio.
His performance against Nigeria was excellent.
Rio has all the fundamentals, now he just has to work on his positional sense.
In back-to-back performances, he has shown class, composure, strength and ability on the ball.
There has been no better central defender playing in this World Cup than Rio.
Heskey 'distinctly ordinary'
Paul Scholes turned in another good performance and when Teddy Sheringham came on he looked impressive.
Emile Heskey was distinctly ordinary. He is a confidence player, but he clearly does not have much of that at the moment.
I think David Beckham is still finding his feet after injury, but England need him to perform better than today.
He wasted a couple of free-kicks and his passing was poor by his high standards.
But if England do play well, with Beckham back to his best, you would fancy them to beat Denmark on Saturday.