England waste opportunity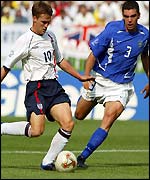 The most disappointing aspect of England's World Cup defeat against Brazil was the failure to take advantage of the extra man when Ronaldinho was sent off.
How many times did they get the ball wide and fail to put quality crosses in?
It must have been 12 or 13 and Brazil were put under no pressure whatsoever.
In truth, there was a gulf in class between the sides.
When you talk about touch and possession there was only one team in it.
You can always bet your bottom dollar Brazil will have control of the ball and dictate the pace of the game.
If you are going to win this competition you need to be better on the ball than England were.
Everyone is going to be talking about Ronaldinho's winner.
Was it a cross or shot? I really don't know - you would have to ask the player himself that.
Should Seaman have been off his line? You would need a goalkeeping expert like Peter Schmeichel to tell you.
Another talking point was the substitution of Michael Owen with 10 minutes to go.
Looking at his reaction, I thought he was a little bit surprised, and in truth I was as well.
You don't take your top striker off with 10 minutes to go when your opponents are down to 10 men.
Brazil's equaliser on the stroke of half-time was crucial. This was the time England were looking stretched and at times like that you need to be solid.
Scholes missed a tackle in midfield and that man Ronaldinho stole forward.
Then there was a step-over, a great pass, great movement and a magnificent finish from Rivaldo that gave Seaman no chance whatsoever.
England's players were understandably devastated at the final whistle.
It's not every day you get the chance to beat Brazil in the quarter-finals of the World Cup and have a realistic chance of winning the competition.
A lot of people said before the start of the tournament that 2006 was going to be the time everything would come together for this England team.
But the way they've played since the Sweden game we all thought there was a realistic chance of them winning this World Cup.
I believe if they had beaten Brazil they would have, but that was not to be and they'll have to wait another four years for their chance.