Helen Brown spotted Alan at a Pet Store in Childwall
I met Alan Hansen in a pet shop which used to exist in Childwall, Liverpool. It was called Animal Magic, I think. I was about 11 at the time and was buying food for my hamster and Alan came in. I didn't know who he was at the time as my favourite Liverpool player was Gary Gillespie. But my brother told me who it was. He'd bought sawdust and told the shop owner it was for his daughter's new rabbit. I've never forgotten how I felt when I later saw him on Match of the Day!
Dave Wallis, Andy McIntyre & Tony Carr spotted Alan in Nottingham
As regular visitors to your site, we thought we'd better let you know that we witnessed Scotland's no1 son (never mind Sean Connery!) out on a shopping trip in Nottingham and then later hitting the tiles.

They were in Rumbelows in Nottingham, when our girlfriends spotted the great man bartering over a 'Henry' hoover with a member of staff.
He was quite persuasive, and they overheard him seal the price for the ex-rental hoover at forty-five quid. The girls have always been admirers and got his autograph and said he was really funny and charming.

We didn't believe them to be honest and thought they'd just faked his signature. But i have an old Liverpool poster with his signature on it and it was the same.

We were still a bit dubious (although my birds not really a practical joker) but lo and behold, we saw him and Ray Houghton in Yates' wine lodge that evening. My girlfriend went and introduced herself again and i had a really deep and incisicive chat with Alan about whether Man Utd would beat the Liverpool of old. Whilst i've always been an admirer of Alan, i am actually a Manu Utd fan, but i'll tell you what- he's got me convinced that Liverpool would win!!
Alan Hansen in sex drugs & rock 'n' roll shocker……
…..well almost. Eagle-eyed Alan spotters, Shelley and Lesley, saw Alan nipping back stage at the recent Robbie Williams concert in Manchester.

They got his autograph and he told them he had a good night. They also said he looked even better in the flesh - but of course.


Des Lynam thought he spotted Alan - writes Brian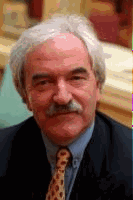 On a bit slightly different note, I was mistaken for Alan Hansen - by Des Lynam !

I was at a TV awards ceremony in January at which AH and DL were present (for their work during France '98 for the BBC).

I got drunk on the free booze, went to the toilet when in came DL and splashed his shoes next to me. He also appeared to have hit the red wine a little too hard and tried to get my attention by calling me "Alan".

When he realised I was not AH (and indeed have never played professional football) he got very embarrassed - mainly because he thought he'd offended me!

By the way, I'm much younger than AH and have different colour hair. DL is either blind or an old soak.
Simon Phillips sat next to Alan on a plane
I was travelling back to Manchester from London, and was very surprised to find that when I got on the plane I was sat next to Alan Hansen.

I couldn't miss the opportunity to speak to him, so I thought I would strike up a conversation, but I don't think he was too willing to talk.

I introduced myself and said I was pleased to meet him, but the strange thing was we never
actually mentioned who he was, it was just taken for granted that I knew he was Alan Hansen.

He was on his way up to Manchester to commentate on a football match up there.

James Clark saw Alan Hansen in London's Carnaby Street
I decided to travel to London in the morning and do a bit of shopping during the day before going to the match. Anyhow, I was in Soccer Scene in Carnaby Street (sorry to advertise) and was just wandering around aimlessly, looking at stuff without intending to buy anything and not really paying much attention to where I was going.

Suddenly, as I approached the display of those funny little figurines of premiership players with huge heads that don't actually look like who they are meant to be, I
noticed out of the corner of my eye a television camera focussed on a person about two yards directly in front of me.

Immediately, I stopped, attempting to not interrupt whatever was being filmed. However I evidently didn't manage it quickly enough as they stopped filming and the man the camera was focussed on turned and looked at me. It was Alan Hansen.!

Suffice to say, (unsurprisingly) on the evidence of what I saw then and there, Alan could glare for Scotland. I didn't ask for an autograph.

A few weeks later, I was watching Hansen's BBC documentary, "The Sack Race" when I spotted the clip I had unwittingly done my best to ruin.

As much as the anecdote has made my mates laugh, I have to say I wish it had never happened. I expected to go through my stay on this planet without ever meeting Alan Hansen, but I would have hoped that if ever I did, we could be mates and chat about defensive frailties, or at least just be civil to each other. But no. I had to go and antagonise him.